Tours
POPULAR EXCURSIONS
Rome Tourist Card
Rome Tourist Card
Snap up the Rome Tourist Card and you'll get everything you need to explore Rome's top highlights including Colosseum, Palatine Hill, Roman Forum and Hop on/off bus. You can even choose the order you see things in.
Colosseum, Roman Forum & Palatine Hill: Priority Entrance
Colosseum, Roman Forum & Palatine Hill: Priority Entrance
Skip the long lines at the Colosseum with this priority-entrance ticket. This ticket will let you bypass the crowds. And after exploring the Colosseum you can head to the area of the Roman Forum and the Palatine Hill.
Vatican Museums & Sistine Chapel: Skip The Line
Vatican Museums & Sistine Chapel: Skip The Line
This ticket will make you save stress and time by allowing you to get priority entrance and skip the line. Visit the the countless masterpieces by Michelangelo, Raphael, Caravaggio, Tiziano and the Sistine chapel.
Borghese Gallery: Fast Track
Borghese Gallery: Fast Track
Galleria Borghese is located in the villa of the park Villa Borghese. Admire the architecture and furnishings of this beautiful villa. It is a museum full of art from the Renaissance. The collection includes several sculptures and paintings. Because of limited capacity get tickets for this museum weeks in advance.
St. Peter's Basilica: Dome Climb with Guide
St. Peter's Basilica: Dome Climb with Guide
Get the most out of your visit to St. Peters with a guided tour to climb the basilica's dome designed by Michelangelo and admire one of the stunning view. After the tour, you can explore the the basilica at your own pace.
More excursions & tours
Metro Rome
The Rome Metro, called Metropolitana di Roma in Italian, is the Eternal City's main medium of public transport. It began its operation in 1955, making it the oldest system of its kind in Italy. Below, you'll find a thorough guide to this most essential piece of Rome transportation, with plenty of travel tips and a Rome metro map!
Although Rome is a vast place, its metro is relatively small, and it's among the smallest among European capitals. Since there's millennia worth of history in the aptly nicknamed Eternal City, it often happens that excavations for the Rome metro need to stop due to newfound archeological sites. Similar issues occur in other ancient cities like Athens and Mexico City.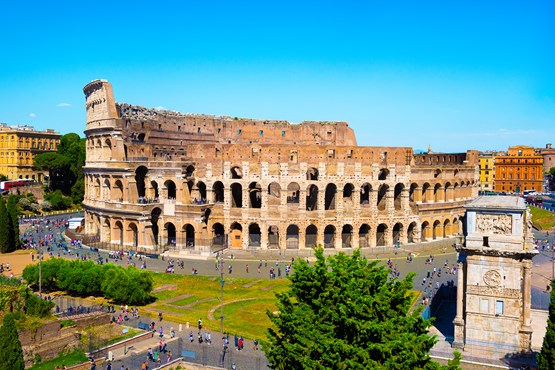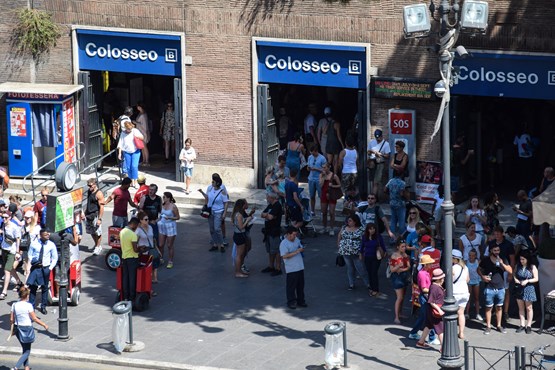 What do I need to know about the Rome Metro?
• Schedule. The trains run daily from 5:30 am to 11:30 pm. On Saturdays they run from 5.30 am to 12.30 am. A train reaches the station every 5 to 7 minutes.
• Safety. The metro is generally safe at any time you use it. However, it's important to keep in mind that Rome is a very touristic city and that leads to pickpocketing. You should take some general precautions to avoid this wherever you are, like being a little more aware of your surroundings.
• Lines. Currently, the Rome metro consists of three lines: Line A (red), Line B (blue), and Line C (green). Among them, they operate on 60 km (37 miles) of route within the city, with 73 metro stations.
• Tickets. You can purchase tickets inside Rome metro stations, as well as newsstands and many corner shops. The best plan if you're looking to use a lot of public transportation is to buy a travel card.
• Prices. At the moment of writing, you can find tickets ranging from €1.50 one-way tickets to annual passes of €250.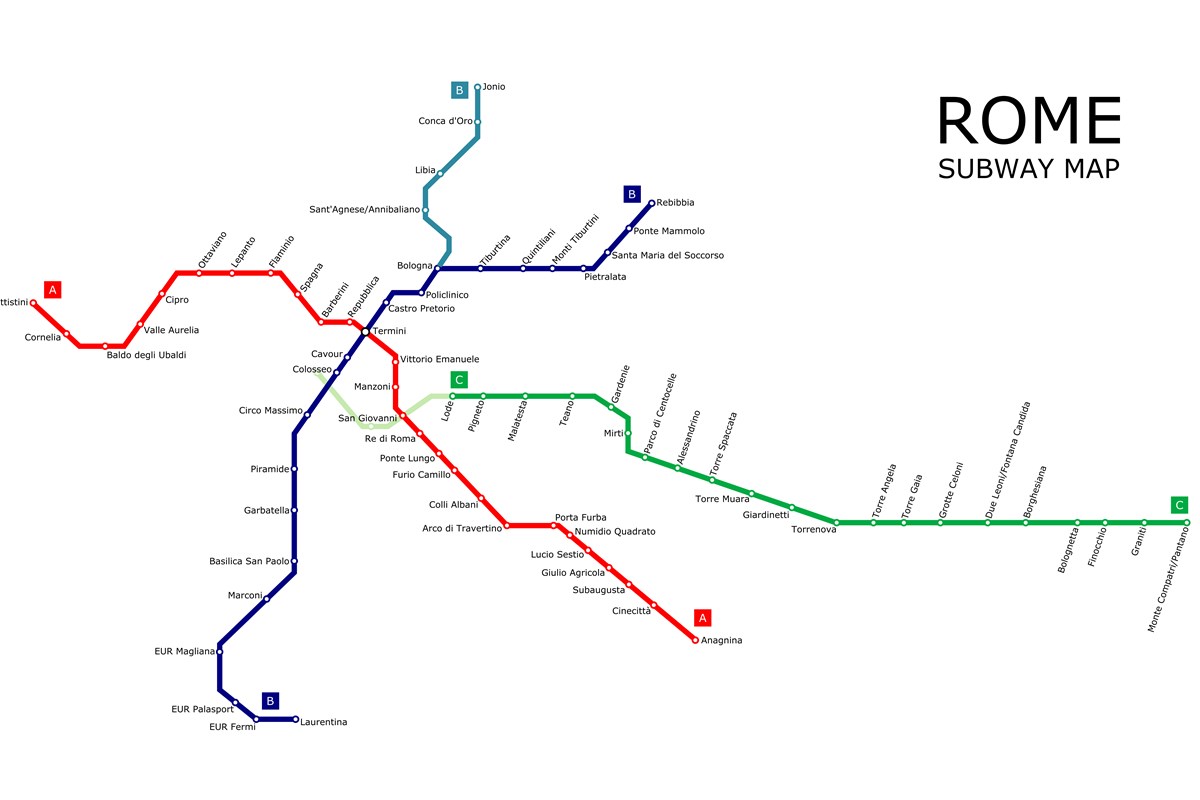 What will I find on Rome metro lines?
Seeing as it is quite small, navigating the Rome underground is very straightforward. The main thing to remember is that Roma Termini is the connection point between lines and just about every other transport in the Eternal City. That includes airport transfers. Line B has a branch that leads to Fiumicino Airport; if you arrive from Ciampino, you can take a city bus to Anagnina and then the metro. 
Out of the three lines, only A and B are completed, while the plan is for Line C to be finished in 2022. However, there have been several delays due to new discoveries during excavations. Rome has many layers, even underneath the earth, so it can be difficult to navigate maintaining the city's legacy while also creating modern new metro lines. 
Below, you'll find a quick guide of which metro stations will get you closer to important landmarks. The two completed lines, Line A and Line B, are the ones that pass through the most landmarks, and both connect to Termini. Line B is the one with most stations connecting to Ancient and Imperial Rome sites. Meanwhile, Line C goes through more areas of interest to locals.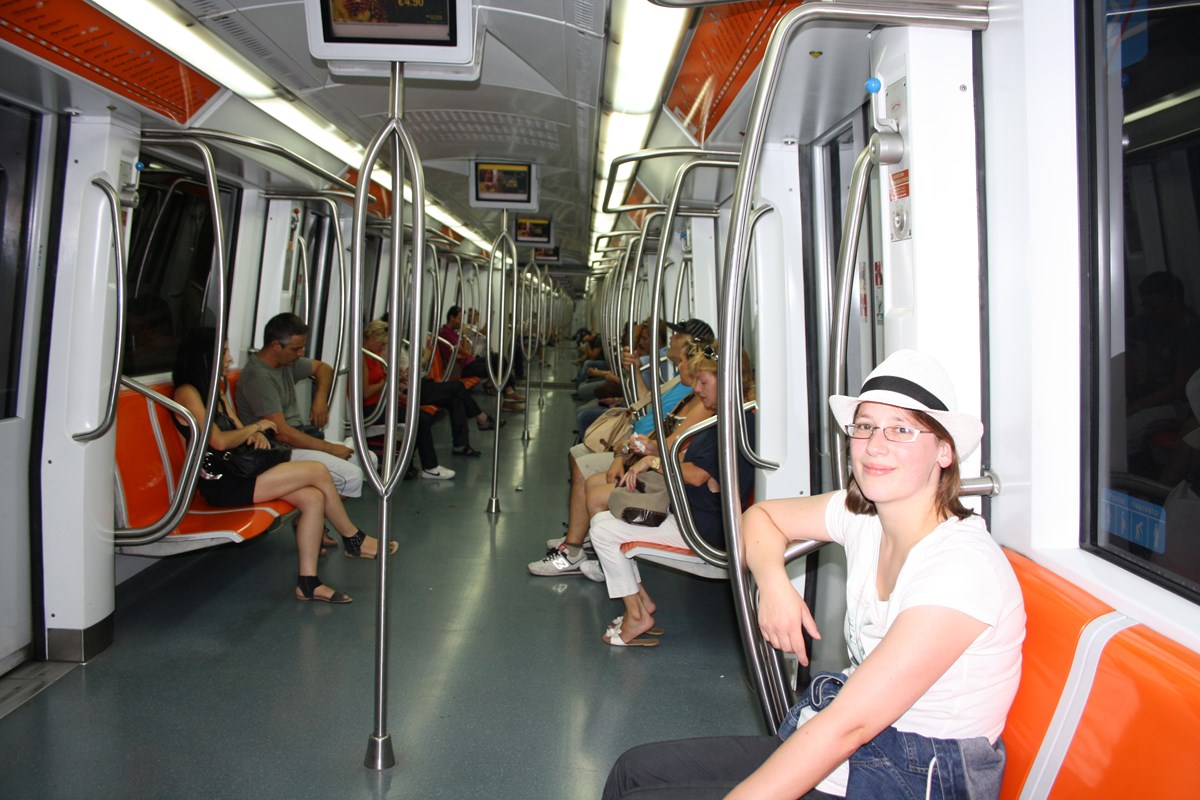 Ancient Rome Landmarks
Colosseum. The quickest way to get to the most famous Roman landmarks is by getting out at the Line B Colosseo It'll leave you on the landmark's very block. As it's near the Colosseum, this station will also get you pretty near the Roman Forum.
Circus Maximus. The nearest station is named after the landmark, so you can't miss it: Line B's Circo Massimo.
Pantheon. Walk towards the Pantheon from Barberini, on Line A.
Pyramid of Cestius. Get out at Piramide on Line B to see this peculiar landmark.
Trajan's Market. Get out at Colosseo on Line B to reach this landmark.
Palatine Hill. It's next to the Roman Forum and the nearest station is Circo Massimo, on Line B.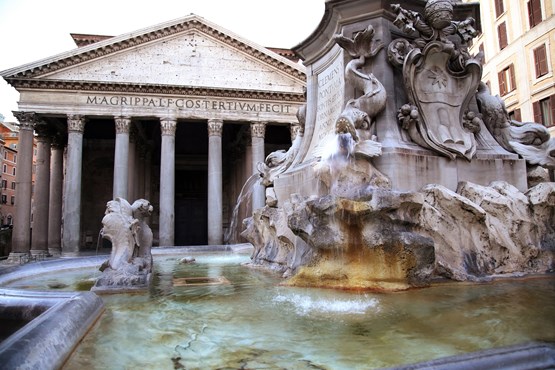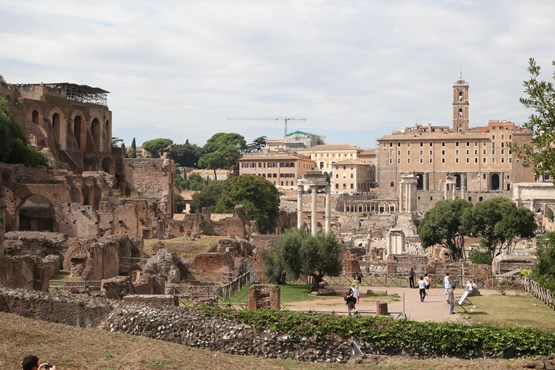 Famous Piazzas and Fountains
• Fontana di Trevi. You can find the most iconic of all Roman fountains on Barberini station, on Line A. The station will also get you close to other famous fountains like the Fontana del Tritone and the Quattro Fontane.
• Spanish Steps. The closest station is on Line A and you cannot miss it because it is named after the landmark, Spagna. Piazza di Spagna is at the bottom of the steps, so you'll reach it through the same station.
• Piazza Navona. The nearest metro station is also Spagna on Line A.
• Villa Borghese. Line A's Flaminio will get you close. It's also near Piazza del Popolo and Pincio Garden.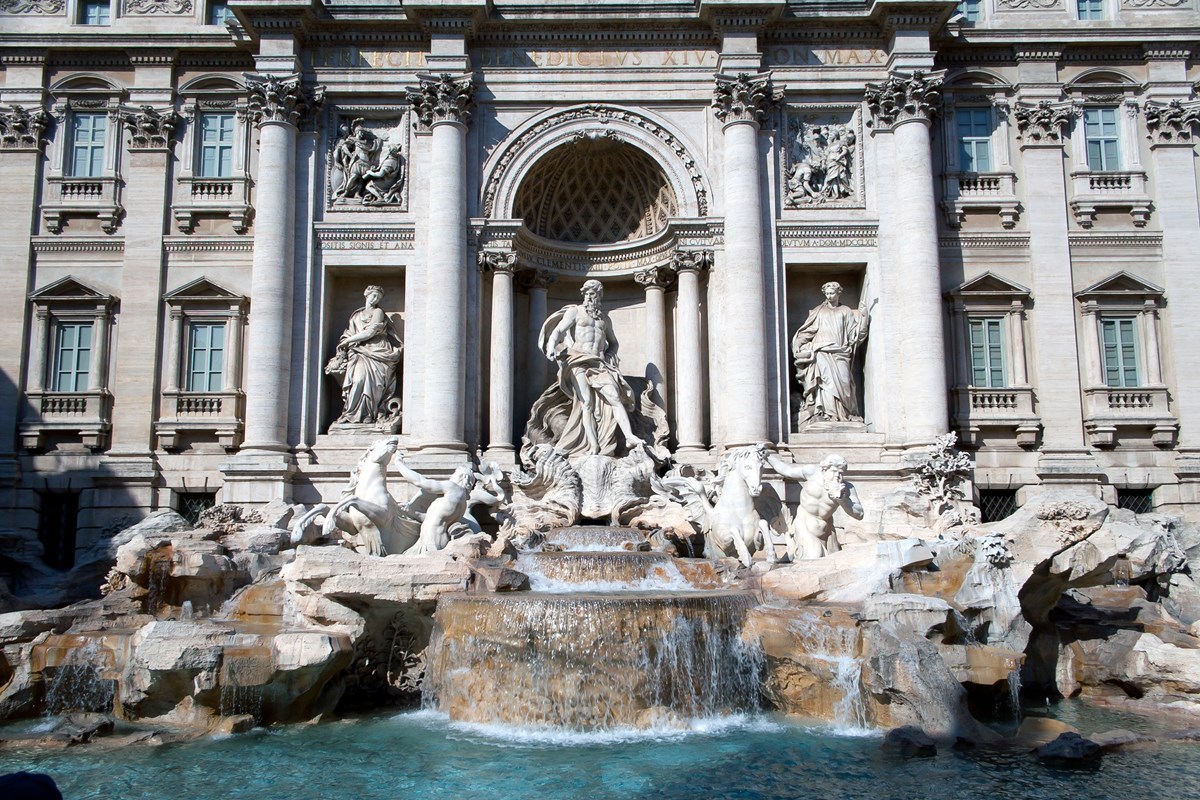 Roman Churches
Vatican City. The Line A Ottaviano – San Pietro stop will get you the closest to Castel Sant'Angelo, St. Peter's Basilica and St. Peter's Square. 
Vatican Museums. While you can reach the whole of the Vatican from Ottaviano, if your focus is the Vatican Museums and the Sistine Chapel, Line A's Cipro – Musei Vaticani is your best bet.
Santa Maria Maggiore. Reach this Papal major basilica getting out at Termini station, on either Line A or Line B.
John Lateran Basilica. You can also reach another papal major basilica on the metro by getting out at San Giovanni, on Line A and Line C. The station is also near the Basilica di Santa Croce in Gerusalemme.
Saint Paul Basilica. A third papal basilica can be reached through the metro by getting out on Line B's station of the same name, Basilica San Paolo.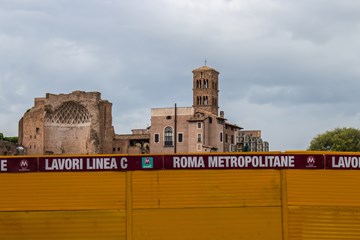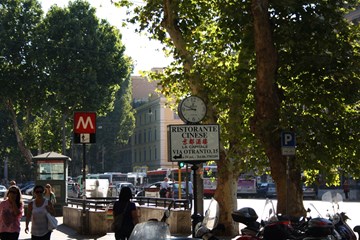 Everything you need to know about the Rome Metro Card
Tickets can be used for all public transportation in Rome: metro, buses, trams and some trips within nearby suburbs. Here are the types of Rome metro tickets:
• B.I.T. standard ticket (€1.50). Valid as a one-way metro ticket or 100 minutes on buses, with transfers.
• 24-hour ticket (€7). Unlimited trips on all public transportation within the Eternal City during 24 hours counting from the first validation.
• 48-hour ticket (€12.50). Unlimited trips on all public transportation for 48 hours counting from the first validation.
• 72-hour ticket (€18). Unlimited trips on all public transportation for 72 hours counting from the first validation.
• C.I.S. (€24). Valid for 7 days from the date of the first validation.
• Monthly pass (€35). Valid for one calendar month.
• Yearly pass (€250). Valid for one year.
Did You Know?
In an effort to become more environmentally conscious, the Rome metro has come up with a nifty solution: free rides for recyclers. Starting in 2019, locals can add bottles to recycling machines on the metro and receive tickets from them. 
It takes 30 recycled bottles to earn a one-way ticket, so it's mostly directed at locals and expats living in the city. There are two city-approved apps for this, MyCicero and TabNet, both of which keep track the number of bottles you've added to the machines. 
The program remains experimental, so it hasn't been implemented city-wide. You can find the machines on metro stations Piramide (Line B), San Giovanni (Lines A and C), and Cipro (Line A).
FAQ
Where can I buy tickets to the Rome metro?
You can purchase tickets inside the stations, corner shops and newsstands throughout the city.
Which metro station is near the Colosseum?
Colosseo station, on Line B, will leave you exactly on Rome's most famous landmark.
How big is the Rome metro?
It's one of the smallest metro systems in Europe with only 73 stations.
Does the Rome metro work 24 hours?
It does not. Trains run between 5:30 am to 11:30 pm from Sunday to Friday. On Saturdays, the schedule changes to 5:30 am to 12:30 am.
You might also like