St. John Lateran Archbasilica
Of the four papal basilicas in Rome, the St. John Lateran Archbasilica is the oldest. It is also considered as the main basilica and one of the seven pilgrimage churches. The other three papal basilicas are the Santa Maria Maggiore (St. Mary Major), St. Paul Outside the Walls, and St. Peter's Basilica.
Inscription
On the front, there's an inscription: "Christo Salvatori", which shows the church's dedication to Christ the Savior. Looking up, one can see a seven-meter tall statue of Jesus, and on his side are saints and doctors of the Church.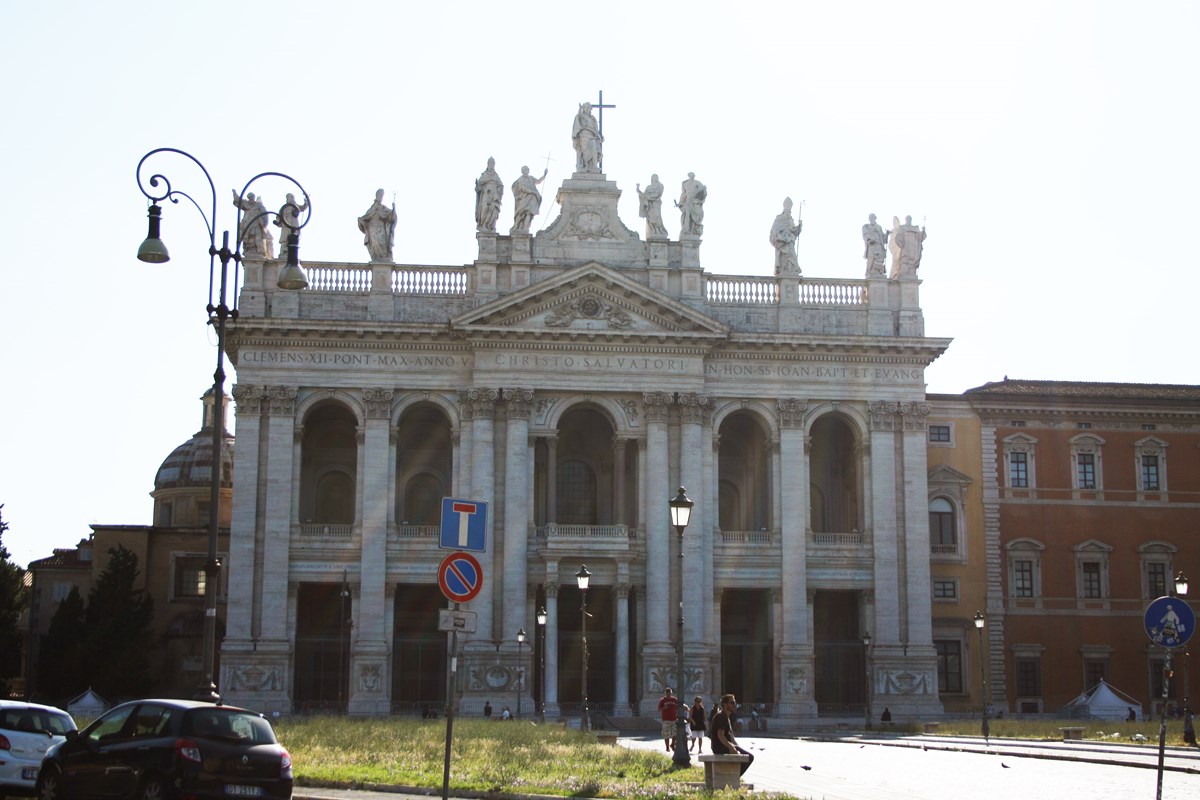 Constantine the Great
Constantine the Great, a Roman Emperor, donated the palace on Monte Ceilo to Pope Melchiades. It was formerly owned by the patrician Laterani family from which the basilica derived its name. It was called the Lateran Palace at first and it was where the Pope officially resided until the fifteenth century. In 324 AD, the basilica was consecrated by Pope Melchiades' successor, Pope Sylvester I and it was he who dedicated it to Christ the Savior.
St. John Lateran Archbasilica
The St. John Lateran Archbasilica went through a lot of disasters and calamities. A fire in 1308 was perhaps the most destructive one causing heavy damage on the church. The Pope moved to St. Peter's Basilica after, but St. John Lateran still remained as the main seat of the Holy See.
Reconstruction of the St. John Lateran Archbasilica
Reconstruction of the St. John Lateran was commissioned by many Popes starting with Sixtus V , Innocent X, and Clement XII. The design of the new façade was completed by Alessandro Galilei in 1735.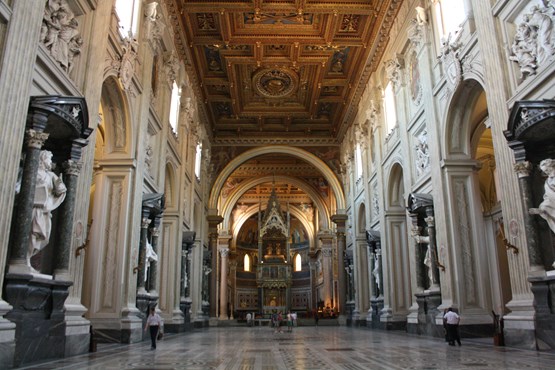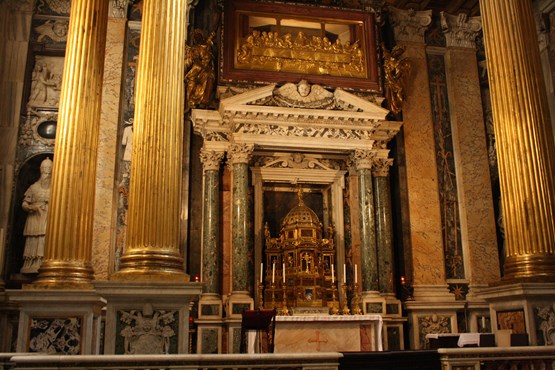 The doors of the main entrance are bronze and it came from the Roman Senate building that originally stood in the Roman Forum. There are twelve images in the church and these statues represent the apostles and disciples. The sculptures are made by Bernini while the frescoes are by Michelangelo.
Accordingly, the papal altar that stands in the basilica is part of a wooden altar where St. Peter, the first Pope, celebrated Mass. To date, only the Pope can celebrate mass on that very altar.
Behind the basilica is an octagon shaped baptistery. It is designed as such so that one could be completely submerged in water. The chapel was built in 432.
Holy stairs
Opposite the St. John Lateran is the Scala Sancta which translates "Holy Stairs". According to legend, these were the stairs wherein Jesus climbed to Pontius Pilate's office during his trial. The stairs were supposedly brought by St. Helena, the mother of Constantine the Great. The stairs will lead you to the Sancta Sanctorum (Holy of Holies) which is a personal chapel of the early Popes in the Lateran palace. This is also known as the chapel of St. Lawrence.
FAQ
How do I get to the Saint John Lateran?
You take metro line A and get off at the San Giovanni stop. From there it is about a five minute walk
Is entrance asked to visit the Saint John of Lateran?
The St. John of Lateran is freely accessible
What is the Baptistery of Saint John Lateran?
The Baptistery of Saint John Lateran is a baptistery separate from the basilica. This baptistery dates from 440, it was thoroughly renovated in 1637. The baptistery is located at the rear of the basilica
When was the St. John of Larerans built?
The Basilica of Saint John Lateran was built in 1650. Before that there was another basilica. It was destroyed by earthquakes
You might also like